The 2021 Subaru Love Promise Customer Commitment Award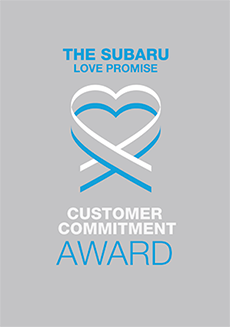 We've been nationally recognized for our dedication to our customers and the Subaru Love Promise.
We're honored to receive the 2021 Subaru Love Promise Customer Commitment Award. This award nationally recognizes Subaru retailers who demonstrate excellence in all areas of customer-focused performance. It highlights exceptional customer service that builds lifelong relationships with Subaru owners.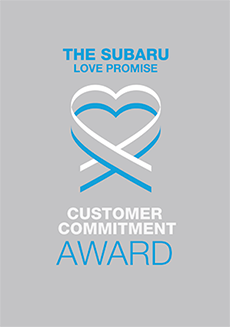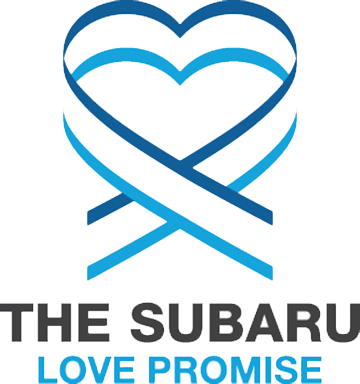 What is the Subaru Love Promise?
Subaru and our retailers believe in making the world a better place and the Subaru Love Promise is our vision of respecting all people. This is our commitment to show love and respect to our customers and to work to make a positive impact in the world.
How is Sunset Subaru dedicated locally to the Love Promise?
Our Love Promise can be seen in various partnerships with local charities and non-profits. We're grateful for the opportunity, not only to be a part of our community, but to serve it as well.
Big Cat Habitat and Gulf Coast Sanctuary, Southeastern Guide Dogs
Love Promise Stories from Sunset Subaru
Subaru and Sunset Subaru believe in making a positive impact on the communities in which we live and work. We uphold that belief through our Love Promise Community Commitment. Every month, we select inspiring stories from customers and partners from around our area who strive to support our collective commitment and feature them here
Vintage Paws Sanctuary, Inc., Sarasota, FL - Holly C
Since May of 2013, Vintage Paws has been a miracle for over 300 senior dogs and has filled a unique and critical need in our community. They take in dogs who are homeless, abandoned, sick, some at the end of their lives and make them whole again. They treat their medical needs, keep them safe and give them all the love they need. Vintage Paws finds fosters and adopters who will take them into their homes. And, for those who need to, they keep them in their sanctuary where they can live out their lives with dignity and love.On November 4, 2019, Sunset Subaru shared their love of pets and community by presenting the results of their dog donation drive to Vintage Paws. The seniors of the sanctuary will be enjoying beds, food, toys and many goodies and they thank all the employees who are part of the Sunset Subaru family. Thank you so very much!
---
Sunset Subaru Delivery to Johns Hopkins - Niki M
On June 18, 2019 the LLS Suncoast Chapter and Sunset Subaru has the pleasure of delivering 80 blankets to Johns Hopkins All Children's Outpatient Care Center as part of the Subaru Loves To Care program. The dealership chose this location as a colleague at the dealership previously received treatment at this location and is now doing very well. This incredible act of generosity was warmly received by the Outpatient staff and nurses who were thrilled to distribute these comforting gifts to their patients. Jeremy Shelby, a local blood cancer survivor who works closely with LLS sharing his story at their events attended this delivery to accept the blankets on patient's behalf. He shared his story with everyone present today as well. LLS is proud to partner with Subaru to spread hope, love and warmth to those fighting cancer, across the country and right here in the Sarasota community. Many thanks to everyone at Sunset Subaru and John Hopkins, not only for a memorable day, but for supporting LLS's mission to cure blood cancers and improve the quality of life of patients and their families.
---
Thank you - Kristi J
Ashton Elementary is thankful for the contribution of books for our students. We have many families that will benefit from the generosity of Sunset Subaru.
---
Subaru helps share the joy of the holidays! - Laura C
The staff and volunteers at Meals on Wheels of Sarasota collaborated with local businesses to collect holiday presents for homebound seniors, veterans, children and families in need. With several stops to make to pick up the gifts, they called on Sunset Subaru in Sarasota, Florida. Tim Reeher, sales manager, arranged the use of a vehicle and sales associate Mark Lees volunteered to drive the new Subaru Ascent to pick up donated gifts. Meals on Wheels Executive Director Marjorie Broughton said, "The saying that not all heroes wear capes is true. We are overwhelmed at the outpouring of generosity by so many, and with Sunset Subaru's help, we will indeed be able to deliver happy holidays along with healthy meals to families in need." It is an added comfort to know that the team at Sunset Subaru would help Meals on Wheels of Sarasota year round, but having the opportunity to thank them by sending potential new car buyers their way during the Share the Love campaign is an easy win-win. Thank you Tim and Mark!
---
Sunset Subaru Cares! - Kristi J
Thank you for being a hero to so many in the Sarasota community. At Ashton, we are working hard to give back to our community and find ways that we can be EVERY DAY HEROES! Today you were our hero. We appreciate your donation of books. Our students are already excited and asking to check out the new science books! With Gratitude, Kristi Jarvis
---
Sunset Subaru Helps Cancer Patients - Sherri S
The Leukemia & Lymphoma Society is proud to partner with Sunset Subaru for the Subaru Loves to Care program. On July 12, 2017, a team from Sunset Subaru led by Tim Reeher and Marcus delivered 80 blankets and 10 craft kits to cancer patients at Moffitt Cancer Center at McKinley. The patients and their families are very grateful to Sunset Subaru and their customers for the warm wishes and words of encouragement. Upon receiving the blanket, one patient exclaimed "this was my favorite blanket from last year and I'll treasure this one as well" Thank you Sunset Subaru for making a difference!
---
Subaru and NWF Love the Earth! - Kelly G
Thank you Subaru of America, Sunset Subaru of Sarasota, National Wildlife Federation, and Bluestone Perennials! My name is Kelly Griffith and I am a teacher at Ashton Elementary School in Sarasota, Florida. I teach a group of 18 second grade students who are learning to love science and plants and care for the world around them! Your grant allowed us to start a fabulous "Pollinator Garden" for our classroom and grade level team to enjoy. It also helped me give greater meaning to my lessons on critical science standards and to make their science learning more memorable and hands-on. We used the lovely zone-specific pollinator plants and generous gift card to maintain our garden, study the stages of a plant, the needs of all plants and life cycles in nature. In addition, I have been able to reinforce responsibility in the classroom as well as important math standards in graphing by measuring, maintaining and monitoring the growth of our pollinator plants. Finally, our class will continue to maintain our classroom garden throughout the summer and next school year by using water conserving Earth Boxes and reclaimed water from our classroom air conditioner! Our classroom garden will generate interest in plants, science and the world around us for the school, long after our class has completed our science lessons. Thank you so very much for making a difference at our school!
---
You Can Make Their Lives Matter - Lynn R
Help Feed Homeless Cats and Kittens The Cat Depot Community Food Bank distributes over 20,000 lbs. of dry food and over 15,000 cans of wet food annually to those supporting free-roaming cats and those who are in need of food for their personal pets. Cat Depot provides food for 265 personal pets and over 540 community/free-roaming cats in Sarasota and Manatee Counties on a monthly basis. Our Community Cat Program continues to grow, as does the need for food. And, Friskies wet food is greatly needed for over 1,200 homeless cats and kittens who arrive at Cat Depotâ¿¿s shelter each year. We are only able to accomplish this with the support of our generous donors and volunteers. For more information about Cat Depot, go to www.catdepot.org.
---
Subaru Loves Learning Book Drive - August 1-31 - Molly M
Join us in our Subaru Loves Learning initiative during the month of August! We are partnering with the American Association for the Advancement of Science (AAAS) in donating science books to the Gulf Gate Elementary School. All of the books that will be donated have been recognized by AAAS as some of the best science books in their field. Contact us to learn more information.
---
SAVE A CHILD'S LIFE WITH A SEIZURE RESPONSE DOG - Bruce C
JoshProvides Epilepsy Assistance Foundation (www.joshprovides.org) is sponsoring its third annual Family Walk and Dog Walk for Epilepsy Awareness on Saturday November 14, 2015 from 8:00am to 12:00pm. We would like to invite you to participate by handing out Subaru bandanas to our dogs. We provide grants to families who cannot afford to purchase seizure response dogs. Read the following story: Sammy had his first tonic-clonic (Grand Mal) seizure at eight years old, and only months later more seizures came hard and fast. By June 2014 Sammy had been transported by EMS four times and hospitalized twice. Knowing that a seizure response dog would help their little boy, his parents turned to JoshProvides. A grant helped make the purchase possible, and today Sybil, an American Yellow Labrador, has greatly improved Sammy's quality of life! Sammy is just one of the many children we help acquire seizure response dogs. JoshProvides receives a number of requests for these special animals weekly and your support will help us help the next family in need. Any contribution or participation at our walk will help us provide these amazing animals. Please call me at 941-400-7950.
---
Subaru Loves the Earth - E-Waste Event - Danielle S
We would like to thank our customers for participating in our E Waste Recycling event during the month of April. With your help, we were able to prevent 3,173 lbs of carbon emissions from polluting the atmosphere. This is equivalent to saving 81 trees, 356 gallons of gasoline, 3,030 plastic bottles, and 13,936 aluminum cans. Thank you for helping strengthen the Subaru Love Promise!
---
Food Drive by Subaru - Laura C
The entire month of June the Subaru team at Sunset Auto Group are hosting a food drive for All Faiths Food Bank in Sarasota. Children face hunger in summer more than any other time of the year. This food drive will help us make sure these kids don't go hungry. Thank you Subaru!!
---
April 1-30, 2015 E-Waste Recycling Event - Molly M
Throughout the month of April, we are hosting an E-Waste Recycling Event in our store to collect unwanted electronics. We've arranged to work with a company who will responsibly collect, re-purpose, and recycle your electronic waste. Help us protect our environment. Just show up with your E-Waste and we'll do the rest! The first 50 customers who contribute will receive a complementary environmental badge of ownership. We will accept: LCD Monitors, Cell Phones, Laptops, Tablets, CRTs up to 40", Video Games/Consoles, Fax Machines, DVD/VCR Players, Printers, Computer Peripherals, Switches/Routers, Cords and Wires.
---